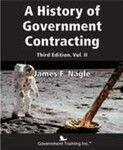 Description
Published in 2012, the third edition includes a new chapter entitled "Tragedy, Competing Emphases, and Unintended Consequences — 1995-2011." In this chapter, Mr. Nagle covers the September 11th terrorist attack, Hurricane Katrina, and the 2008 recession. Due to a printing error, this final chapter has been revised and is included as part of this collection.
Publisher
Government Training Inc.
Recommended Citation
James F. Nagle, A HISTORY OF GOVERNMENT CONTRACTING (Gov't Training Inc., 3d ed. 2012).
Rights
Posted by permission of Government Training Inc. All rights reserved.
Files
Download Chapter 15 - The War Begins (666 KB)
Download Chapter 16 - The Interwar Period (1001 KB)
Download Chapter 17 - Socioeconomic Statutes and Goals (376 KB)
Download Chapter 18 - The Mobilization Begins (637 KB)
Download Chapter 19 - World War II Begins (522 KB)
Download Chapter 20 - Industry Responds (313 KB)
Download Chapter 21 - Contracting in an Era of New Technology, Paperwork, Litigation (831 KB)
Download Chapter 22 - The Modern Era: A Sea of Paperwork (312 KB)
Download Chapter 23 - The Modern Age - The 1980s and 1990s (562 KB)
Download Updated Chapter 24 - Tragedy, Competing Emphases, and Unintended Consequences - 1995-2011 (290 KB)
Download Bibliographical Essay (425 KB)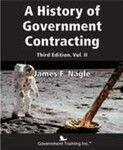 COinS