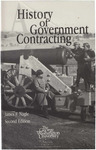 Description
Published in 1999, the second edition includes a new chapter entitled "The Modern Age," covering the 1980s and 1990s. It provides an overview of major procurement events of the time, including The Competition in Contracting Act, The Packard Commission, The Procurement Integrity Act, the Section 800 Panel, and The Federal Acquisition Streamlining Act.
Publisher
The George Washington University
Recommended Citation
James F. Nagle, A HISTORY OF GOVERNMENT CONTRACTING (George Washington Univ., 2d ed. 1999).
Rights
Posted by permission of The George Washington University. All rights reserved.
Files
Download Introduction (147 KB)
Download Chapter 1 - French and Indian and Revolutionary Wars (753 KB)
Download Chapter 2 - The Young Republic (339 KB)
Download Chapter 3 - Start of the Arms Industry (242 KB)
Download Chapter 4 - The War of 1812 (293 KB)
Download Chapter 5 - The Nation Expands: 1815-1861 (492 KB)
Download Chapter 6 - Freighting Empires and the Overland Mail Service (623 KB)
Download Chapter 7 - Contracting Trends as the Nation Approached Civil War (165 KB)
Download Chapter 8 - The Civil War to 1880 (750 KB)
Download Chapter 9 - Demobilization and the Rise of Consumerism: 1865-1880 (128 KB)
Download Chapter 10 - Building the Fleet 1881-1898 (369 KB)
Download Chapter 11 - The Spanish-American War (73 KB)
Download Chapter 12 - Contracting Enters the Twentieth Century: 1900-1914 (406 KB)
Download Chapter 13 - The Mexican Border Campaign (60 KB)
Download Chapter 14 - Industrial Mobilization for World War I (176 KB)
Download Chapter 15 - The War Begins (633 KB)
Download Chapter 16 - The Interwar Period (986 KB)
Download Chapter 17 - Socioeconomic Statutes and Goals (330 KB)
Download Chapter 18 - The Mobilization Begins (594 KB)
Download Chapter 19 - World War II Begins (412 KB)
Download Chapter 20 - Industry Responds (257 KB)
Download Chapter 21 - Contracting in an Era of New Technology, Paperwork, Litigation (724 KB)
Download Chapter 22 - The Modern Era: A Sea of Paperwork (280 KB)
Download Chapter 23 - The Modern Age - The 1980s and 1990s (461 KB)
Download Epilogue (1.4 MB)
Download Bibliographical Essay (408 KB)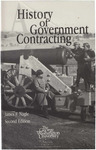 Included in
COinS